The Belle Of Mardi Gras

The Belle of Mardi Gras is 18" tall.  She is a cloth doll with needle sculpted features. The purple, green and gold colors of Mardi Gras are reflected in her costume She wears a one-of-a-kind bodice made of strips of various fabrics and fibers which have been stitched together and heavily machine embroidered with gold thread. Her upper bodice is purple silk stitched with gold beads.  Her purple silk skirt is lined in green, with a gold ruffle at the hem. The skirt is over-laid with metallic green net, with a sprinkling of sequins.  Her gloves are hand dyed lace. She wears a peridot necklace and carries a molded paper mask, accented with metallic trims, feathers, sequins and tiny bells. Her wig is hand dyed mohair, and she wears a headpiece of purple, green and gold feathers.  She bends her knees and smiles flirtatiously, and knows she is "The Belle of Mardi Gras"!

Contact for price and availability.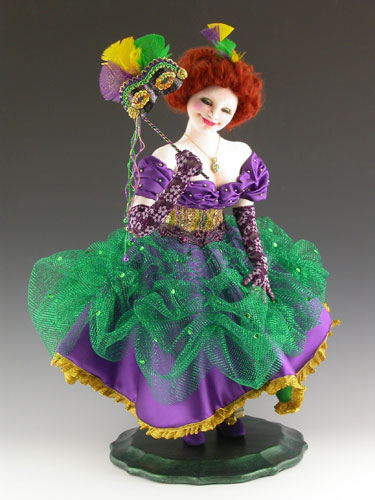 Click on image above to see next image.