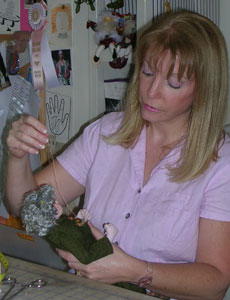 Janet Bodin was born in Houston, Texas. After living in Mexico City and Rome, she returned to Texas where she graduated from Trinity University in San Antonio. She now lives in Houston with her husband and two daughters.
"My interest in sewing and embroidery began in childhood. As an adult, my interests expanded into the areas of fabric dyeing and painting, needlework, beading, and felting. During a visit to the International Quilt Festival in 1996, I saw an art doll exhibit and was completely enchanted. I immediately began to learn everything I could about doll making. I have taken classes with numerous teachers and I am so grateful for their willingness to share their skills and knowledge. I began creating my own original art dolls in 1998, incorporating various fiber arts into my figurative sculpture."
Janet has exhibited in numerous galleries and juried exhibitions, including the International Quilt Festival, the Houston Center for Contemporary Craft, the Santa Fe International Figurative Art Experience, and the Kansas City Doll Fair. Her dolls have won awards locally and nationally. Her work has been in various publications including Art Doll Quarterly, Contemporary Doll Collector, Quilting Arts, Soft Dolls and Animals, and the books 500 Handmade Dolls and Deeper into the Woods.
Janet is a member of the Original Doll Artists Council Of America, the Houston Area Fiber Artists, the Mixed Media Artists of Houston, the Texas Association of Original Doll Artists, the Material Girls of Houston Cloth Doll Club, and the Houston, Galveston, and Brazosport Art Leagues.